EPICからのお知らせ
イベント情報
Let's Make the World More Peaceful Through Art Niihama SDGs Art Festival 2019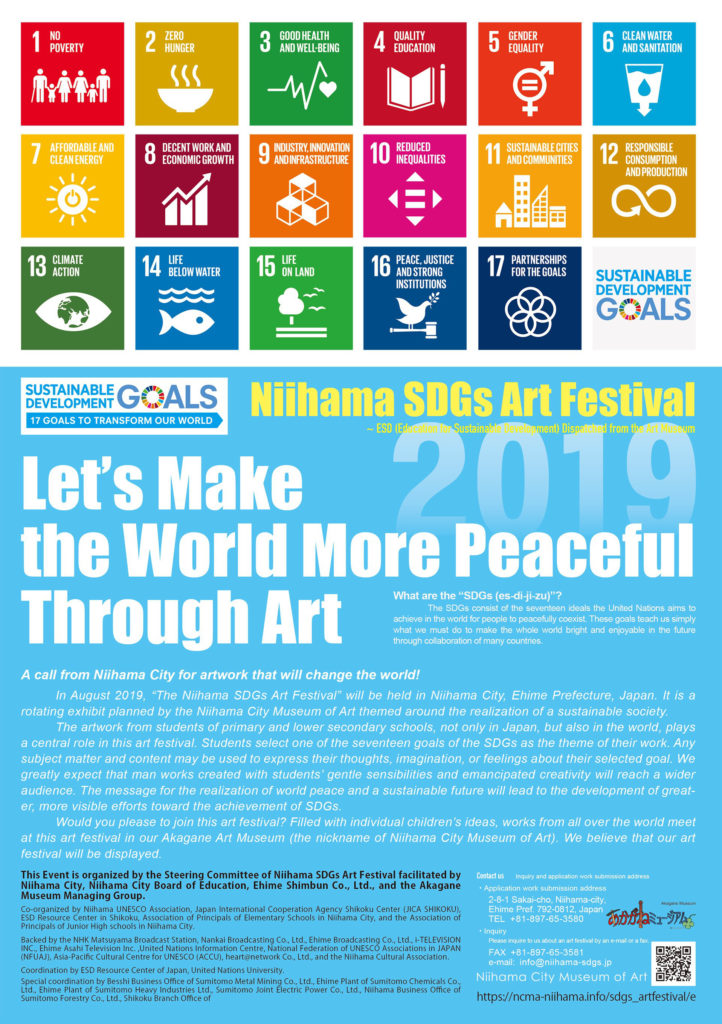 "The Niihama SDGs Art Festival" will be held in Niihama City, Ehime Prefecture, Japan.
It is a rotating exhibit planned by the Niihama City Museum of Art themed around the realization of a sustainable society.
The artwork from students of primary and lower secondary schools, not only in Japan, but also in the world, plays a central role
in this art festival. Students select one of the seventeen goals of the SDGs as the theme of their work.
All the submitted works are principally displayed at the gallery in the Niihama City Museum of Art.
■Works: Planar works using paper (like a painting/tableau) or video works
■Applicants: Elementary and Junior High School Students from Grade One to Nine
■Period of exhibit: August 24th to October 18th, 2019.
■Venue: Niihama City Museum of Art (Akagane Museum)
■Others: Please check our HP to know detail
https://ncma-niihama.info/sdgs_artfestival/e  (English)
★Contact:
https://ncma-niihama.info/sdgs_artfestival/e/contact.html