観光情報
観光情報
"Bonsai" One Day Trip to Doi, Shikoku-chuo-shi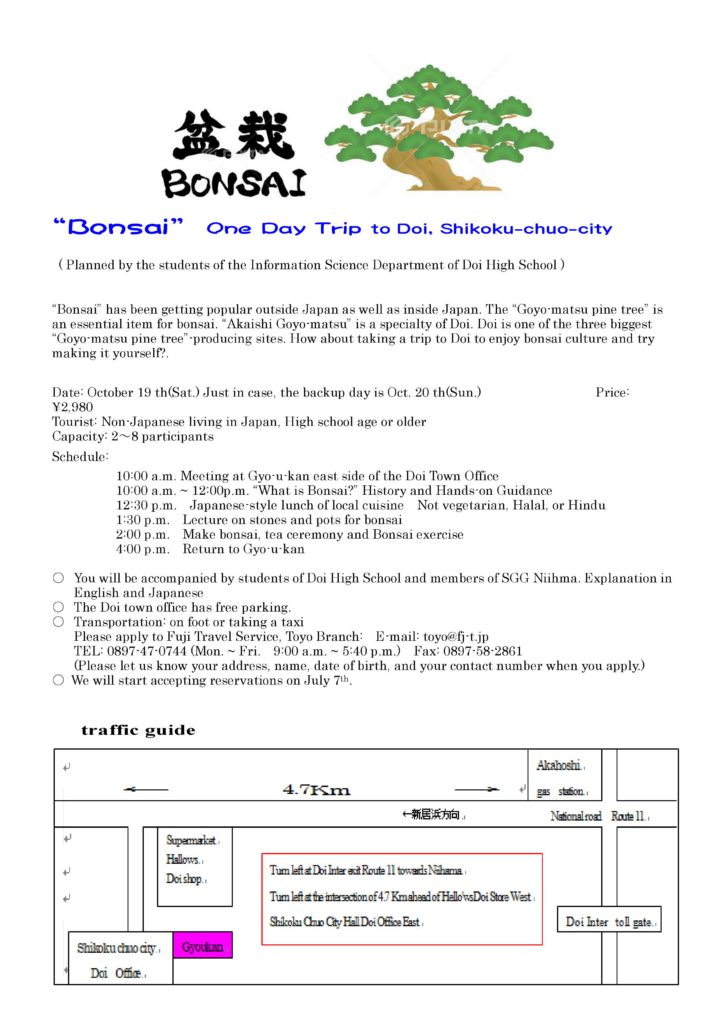 Flyer (PDF)
Flyer (JPEG)
How to Apply (JPEG)
This tour is planned for foreiners by students of the Information Science Department of Doi High School at Shikoku-chuo-city.
"Bonsai" has been getting popular outside Japan as well as inside Japan. The "Goyo matsu pine tree" is an essential item for b onsai.
"Akaishi Goyo matsu" is a specialty of Doi. Doi is one of the three biggest Goyo matsu pine tree producing sites.
How about taking a trip to Doi to enjoy bonsai culture and try making it yourself?
■Date: October 19th (Just in case the backup day is Oct. 20th, Sun.)
■Price: 2980 yen
■Tourist: Non Japanese living in Japan , High school age or older
■Capacity: 2-8 participants
■Notice:
*You will be accompanied by students of Doi High School and members of SGG Niihma.
*Explanation in English and Japanese.
*The Doi town office has free parking.
*Transportation on foot or taking a taxi.
★How to Apply:
Fuji Travel Service, Toyo Branch.
TEL: 0897-47-0744 (Mon.- Fri. 9:00-17:40) FAX: 0897-58-2861
E-mail: toyo★fj-t.jp *Please change ★ into @ when you send an e-mail.
*Please let us know your address, name, date of birth , and your  contact number when you apply.